ESSENTIAL ENTHEOGEN PREPARATION & INTEGRATION GUIDE
This is a much deeper guide than what to eat/not eat, etc. This gives you helpful insights from how to choose a guide, ways to avoid "bad trips" during your journey, all the way through to helpful integration practices and insights.
>> GET YOUR GUIDE <<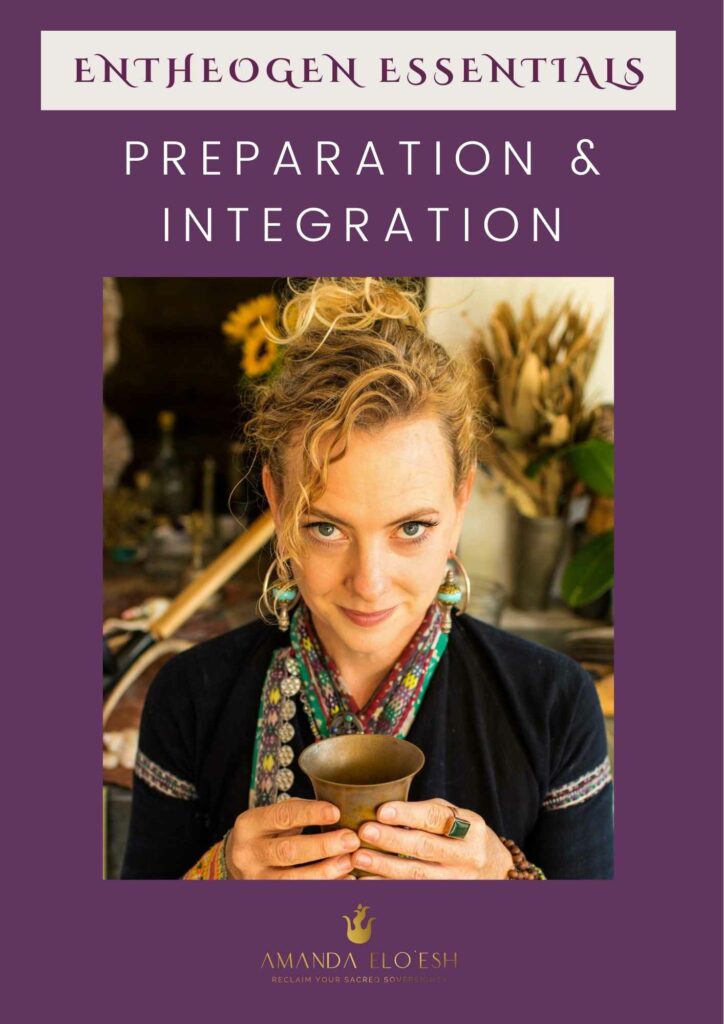 ONE-ON-ONE INTEGRATION COACHING
If you are interested in one-on-one integration support, please contact Amanda & Matthew.
FIRESIDE PROJECT
If you need assistance processing your experience or ever find yourself or a loved in a "bad trip", you can contact Fireside Project. This is a free psychedelic peer support line, that is available through call or text at (623) 473-7433.
SPIRITUAL EMERGENCY NETWORK (SEN)
SEN was founded as the Spiritual Emergency Network (SEN) in 1980 by Christina Grof and her husband, Stanislav Grof, in response to the lack of understanding and respect for psychospiritual growth in the mental health profession. SEN can help you locate a mental health professional who can assist you in your spiritual growth and processing. http://www.spiritualemergence.org
7 CUPS
7Cups.com has resources available 24/7 to chat with you and lend a friendly ear if you ever just need someone to talk to. They truly understand the powerful healing that can take place by listening to someone. It's anonymous and completely free.
CRISIS TEXT LINE
Crisis Text Line is free, 24/7 support for those in crisis. Text from anywhere in the USA to text with a trained Crisis Counselor. Text START to 741-741
ADDICTION RECOVERY
If you are currently working a 12 Step Program or are in addiction recovery and need support, you may contact Psychedelics in Recovery https://www.psychedelicsinrecovery.org.
If you are LGBTQ and are struggling with substance abuse addiction, contact SoCal Sunrise https://socalsunrise.com/substance-abuse-in-the-lgbtq-community
THE ANCESTOR PROJECT
The Ancestor Project provides a safe space for BIPOC (Black, Indigenous and People Of Color) to share their healing journey with entheogenic and Earth medicines. You can find a list of all upcoming integration circles by using this link https://thesabinaproject.as.me/schedule.php?appointmentType=17858535
THE TREVOR PROJECT
The Trevor Project (866) 488-7386 is the leading national organization providing crisis intervention and suicide prevention services to lesbian, gay, bisexual, transgender and questioning (LGBTQ) young people ages 13-24.
TRANS LIFELINE
Trans Lifeline (877) 565-8860 is a trans-led organization that connects trans people to the community, support, and resources they need to survive and thrive.
RAINN
The nation's largest organization fighting sexual violence, RAINN also carries out programs to prevent sexual violence, help victims and ensure that rapists are brought to justice. Rape Abuse and Incest National Network RAINN (800) 656-HOPE
OTHER HELPFUL RESOURCES
National Suicide Prevention Lifeline: (800) 273-8255
National Alliance on Mental Illness (NAMI) HelpLine: (800) 950-NAMI (6264)
National Institute of Mental Health Depression & Panic Disorder Hotline: 800-421-4211
National Center for Post-Traumatic Stress Disorder Info Line: (802) 296-6300
American Trauma Society: 800-556-7890
Boy's Town National Hotline: 800-448-3000
Substance Abuse & Mental Health Services Administration: (800) 662-HELP (4357)
Relapse Prevention Hotline: 800-RELAPSE
800 Alchohol: 800-ALCOHOL
800 Cocaine: 800-COCAINE
Al-Anon/Alteen: 800-356-9996
Al-Anon Family Groups, Inc.: 80-344-2666
Acoholics Anonymous: 212-870-3400
Cancer Information Service: 800-4-CANCER
CDC National HIV & AIDS Hotline: 800-342-2437
National Domestic Violence Hotline: (800) 799-SAFE (7233)
Veterans Crisis Line: (800) 273-8255
LGBT National Hotline: (888) 843-4564
Compulsive Gambling Hotline: 410-332-1111
Grief Recovery Helpline: 800-445-4808
International Association for Near-Death Studies: 860-882-1211
National Council on Sexual Addiction/Complusivity: 800-321-2066
Survivors of Incest Anonymous: 410-282-3400
BIPOC accessibility to mental health services: http://bicyclehealth.com/blog/addiction-bipoc-community
Ride Sharing Sexual Assault Safety Guide https://cutterlaw.com/sexual-assault-ride-sharing-guide/